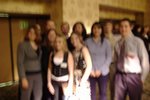 State Conference, Reno, March 21, 2006

Future Business Leaders is an educational association whose members are secondary, postsecondary and college students preparing for careers in business. FBLA-PBL has five divisions: FBLA for high school students, FBLA Middle Level for junior high students, PBL for postsecondary students, an Alumni Division and A Professional Division for any other interested participants. For more information on the National Organization, click here.

To bring business and education together in a positive working relationship through innovative leadership development programs.

· Promote competent, aggressive business leadership.

· Understand American business enterprise

· Establish career goals

· Encourage scholarship

· Promote sound financial management

· Develop character and self-confidence

· Facilitate transition from school to work

270,000 active members in over 11,000 chartered chapters in the U.S., Puerto Rico, Virgin Islands, U.S. Territories and Department of Defense Dependent Schools worldwide.

· Tomorrow's Business Leader (student magazine)

· Teacher's Guide to Tomorrow's Business Leader

· Hotline (advisor newsletter)

· The Professional Edge (Professional Division newsletter)

· Phi Beta Lambda Business Leader (college student magazine)

· Management Series: Leadership development conference for student officers and advisors

· National Fall Leadership Conferences: Five regional annual conferences for student members (November)

· National Leadership Conference: Annual conference concluding the year's activities (July)

· National Awards Program: Business-related competitive events and civic, service, career development, social awareness and economic education projects

· Nevada Winter Regional Conferences (December or January)

· Nevada State Leadership Conference (March)

Headquartered in Reston, Virginia, and organized on local, state and national levels. Local chapter operation is guided by business teacher advisors and advisory councils. State advisors and committee members coordinate chapter activities. A Board of Directors sets policy and appoints a President/CEO. A Congressional Advisory Committee supports FBLA-PBL and fosters wider recognition of its programs.

Nevada Chapter State Committee sets state policy. State advisers for each division supervise daily operations and work through the respective executive councils to implement the divisions' program of work. Members of the Nevada Business Education Advisory Council support the Nevada Chapter of FBLA-PBL and promote recognition of its programs. For more information on Nevada FBLA, click here.

The FBLA concept was developed in 1937 by Dr. Hamden L. Forkner of Columbia University. In fall 1940, the National Council for Business Education accepted official sponsorship of FBLA. The first FBLA High School Chapter was organized February 3, 1942, in Johnson City, Tennessee.

Financing is primarily by member dues'; corporate and foundation grants are other important revenue sources.

A Presidential Classroom for Young Americans, American Management Association, American Career and Technical Education Association, Association of Independent Colleges and Schools, Business$s Kids, Horatio Alger Association, ITT Education Services, Johnson and Wales University, National Association of Secondary School Principals, National Business Education Association, National Management Association, U. S. Department of Education, Wall Street Games, Youth of Understanding International Exchange.

Round Mountain High School received it's Chapter in 1995 and the Junior High School received it's Chapter in 2005. The present members and officers are:

High School: Kattrena Akers (HISTORIAN), Courtney Barber (CO-REPORTER), Hillary Cundick, Taylor Damon, Christine Domagala, Jennifer Doheny, Blake Houston (PARLIAMENTARIAN), Anissa Jones, Jennifer Jones, Elesa King, Rachel Ladouceur (SECRETARY), Misty Larrabee (TREASURER), Robert McCluskey (CO-REPORTER), Mackenzie Musselman, Brendan Musselman, Casey Nowack, Sara Nowack, Nathan Pharris, Mykal Petersen (PRESIDENT), Levi Price, Vicente Ramirez (VICE PRESIDENT), Dalton Ream, Kena Reed, Amber Shows, Ashley Thompson, and Greg Warnert. Ju

nior High: Justin Acosta, Clancey Carver, Carlee Cecchini, Kanoni Edayan, Heather Glenn, Gatlin Houston, Dylan King, Janel Lacey, Bailey Linhart, Sydnea Peirce, Billy Schwartz, and Jefferson Zybell.

The following officers attended the Nevada Fall Leadership/Officer Training Conference in Elko on October 8 and 9: Kattrena Akers, Courtney Barber, Blake Houston, Rachel Ladouceur, Misty Larrabee, Robert McCluskey, Mykal Petersen, and Vicente Ramirez. Mrs. Leslie Nowack and Mr. Donald Haines were the advisers.